Here are my books with my publisher's notes along with some good reviews for which I'm grateful!
You can find order and payment details on the dedicated links to each book.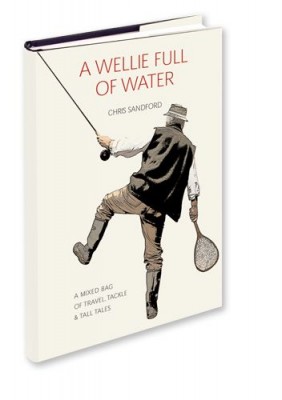 A Wellie Full of Water
Chris Sandford has fished since he was a boy, originally on the river Mole in Surrey, but in recent years, around the world. A Wellie Full of Water is an entertaining collection of tales from his angling adventures. There's pike in the Trossachs, lake trout in the Yukon and massive carp from the Massif Central. There's shaggy fish stories and from the bizarre world of vintage tackle collecting, there's the Totally Tasteless Teapot, the cross-dressing fishing reel and some beautiful backsides. And if that wasn't enough he's 'moused' for leopards, baited-up from a water-bike and suffers the indignity of a wife who always catches bigger fish than he does.
'A really mixed bag of fishing, travel, tackle and tall tales from the pen of Chris Sandford, presenter of the TV series Just Fishing . . . lavishly illustrated . . . You won't be able to put it down' – John Wilson, Sunday Express
'A very enjoyable read' – Fishingmagic.com
'Chris Sandford . . . has show biz in his blood and A Wellie Full of Water is an entertainment in umpteen acts.' – David Beazley, Gamefisher