Chris Sandford reports on how the 'Dream Team' won the 2011 River Test 'One Fly' Competition.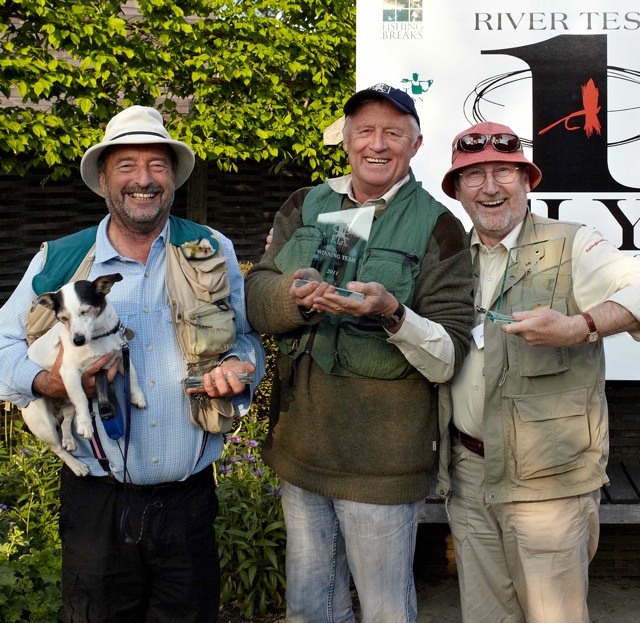 Photograph by Guy Cragoe
In 2010, I was flattered to be invited to join Chris Tarrant in Bob James's 'Dream Team' to fish the River Test 'One Fly' competition organised by Simon Cooper's company 'Fishing Breaks'.
We didn't win, so in 2011 we thought we'd have another go!
As the title suggests, the 'One Fly' operates on a very simple rule. You fish with only one fly, lose it and you're out! But then comes the big question, which fly? I supplied our 'Dream Team' with 'The Ducking Feadly', one of my flies that did quite well for us in 2010.
When Bob invited me to join the team I only had a few days to come up with a pattern that would get down through the murky water into the deeper holes, and would be strong enough to survive the battering that it would hopefully receive from several large Trout.
On the morning of the competition Bob's guide looked into the box and said "They look ****ing deadly!" So that's what we decided to call the fly!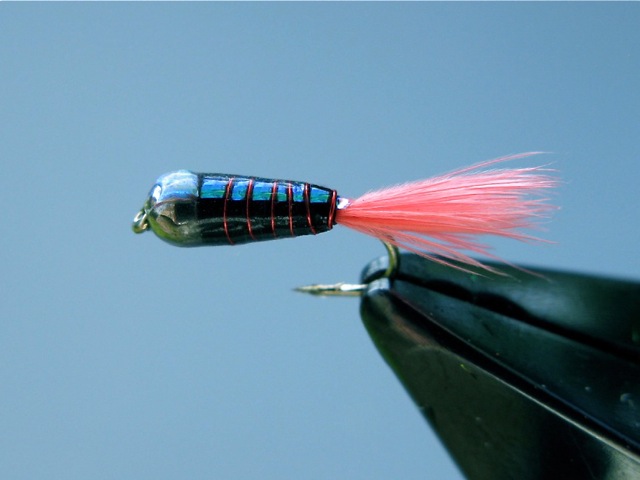 Later that day, a TV crew was filming Bob as he continually caught fish on my fly. The director asked him the name of the fly he was using. Not wishing to offend the viewing public, he pretended not to remember and asked his guide.
The guide, without missing a beat said…
"Oh that one, sir. That's the 'Ducking Feadly"!
The 'D.F' is based on a Grayling bug devised by the late Geoff Clarkson that is tied on a curved nymph hook. I simply tied it on a straight size 14, added a holographic strip down its back and gave it a pink butt so I had a better chance of seeing it as it sank down through the water! However, the secret of its survival is a coating of Bug Bond, a new resin product that dries in about 10 seconds when exposed to the beam of a special ultra violet torch.
In this year's 'One Fly' the 'D.F.' did us proud, the team won and, thanks mainly to the fish spotting abilities of head keeper Jon Hall, who was my guide on the Moorcourt beat at Broadlands, I also managed to win the Lower Test award with the most points awarded to a single rod!
Our captain Bob James was delighted with the result and commented 'Fishing with your buddies is good but winning with them is even better! The 'D.F.' is surely becoming a modern classic. It has now taken so many fish for me in so many situations. On the drop…down deep, and the takes are always really positive. What a fly…what a day!
When Chris Tarrant was asked to give his opinion of the 'D.F.' I knew I'd be in for a hard time. He announced to the assembled company, "Initially, like everything to do with Sandford, I was extremely dubious, but after years of disappointment and treachery, I have to say that this time, his word was as good as his bond and the Test trout foun