By Chris Sandford
In the bleak 'cabin-fever' days of last winter I decided that sooner than go for another soaked to the skin Pike fishing day, I would tidy up the iPhoto file on my Apple Mac. I went back 18 months where my last tidy up had finished and gradually worked my way forward. Did I really need to keep that shot of me holding yet another small Trout or the first course of a particularly good meal consumed during a long weekend in France? Gradually more and more pictures were dumped in the trash file. Then I found a shot of a fly that not only brightened the winter gloom, but also kept me at my tying vice through those long winter evenings. It also set me on the trail of a technique that I had never seen before, and was finally responsible for me catching my best fish of last season. The fly was 'Ulf's Killer' and I had taken the shot at the 2010 Dutch Fly Fair.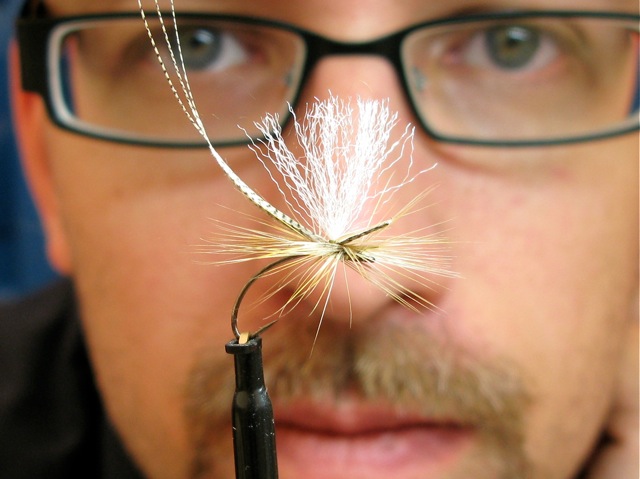 Ulf Hagstrom is a much-respected Swedish tyer and I found him more than happy to share and demonstrate any of his fly designs. His 'Killer' fly has a hackle tied between the body and the hook, as opposed to around the hook or the post. Ulf explained he developed the idea from an article in FF&FT by Poul Jorgensen in 2001. Interestingly, Jorgensen gives credit for this method of hackle tying to Catskill tyer Harry Darbee who he also credits with the creation of the 'Two Feather' fly.
Darbee first used this 'under-hackle' technique when he designed his Crane Fly or Daddy Long Legs.