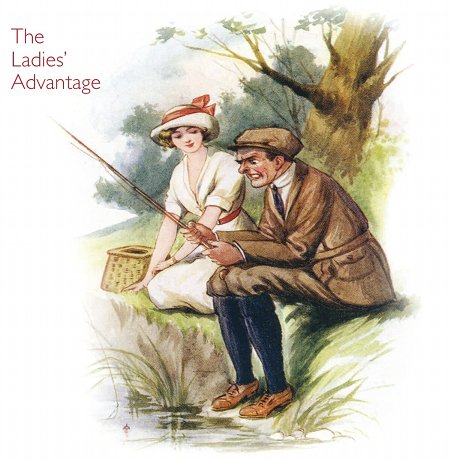 I don't remember when I first read about Miss Ballantyne's record 64lb salmon that she caught on the Tay in 1922, but I do remember thinking, 'Good for her. Everyone needs a bit of luck!'
Over the years, I've read most of the theories about why lady anglers catch bigger and better fish than us chaps. Frankly, I dismissed these scribblings as a series of poor excuses invented by men who wanted to prove that they were at an unfair disadvantage, when outfished by the fairer sex . . . Akin to some new kind of bait mix or mystical fly, how could they possibly compete if they were lacking this mysterious ingredient? If I'd had the sense to pay a little more attention to detail, I would have realised that this research was, in fact, based on an irrevocable truth.
Nearly twenty years ago I met Gelly, the lady who is now my wife. I was attracted to her for all the obvious reasons but I soon discovered a bonus benefit . . . she was about to produce John Wilson's first fishing series being filmed around the world!
Naturally I asked permission to tag along, but was told firmly but with a smile, "No darling . . . I'm working!"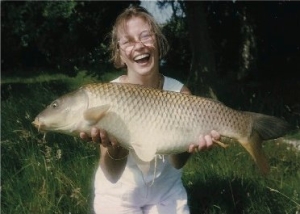 Undeterred, I took her to a private carp lake in the hope that my skills as an angler might impress, and that I would be recognised as the ideal companion to accompany her on this worldwide trip. I explained the intricacies of the fixed-spool reel, showed her how to rig the bait and even allowed her to cast her own rod. It wasn't the greatest cast but it didn't go into the bushes on the opposite bank or fall on the ground behind her!
I was answering the call of nature about an hour later, when I heard the bite-alarm and Gelly's call, "It's all right darling. I've got it!" When I returned she was in the water wearing my waders and giving considerable sidestrain to a carp that weighed in at 17lb. The first of four that day!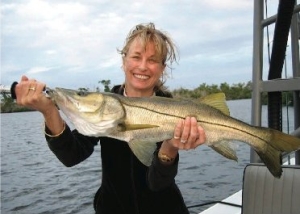 I didn't accompany her on her shoot, but since that outing we have fished together whenever we can and organise our own 'round the world' fishing adventures. Our holidays are the best of times and until recently I have chosen to ignore the fact that my wife usually catches the biggest fish. There was the 80lb tarpon and the 60lb cobia in Florida. The 8lb bonefish in the Caribbean. The enormous ray, and the shark that took nearly an hour to bring to the boat. I would always offer my congratulations but still secretly believed that these catches were more to do with luck and the skill of the guide.